Character in every Glass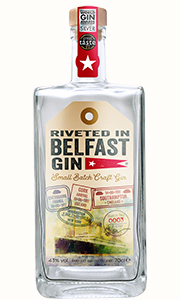 Classic Belfast Dry
Our Gin expertly infuses eight gin botanicals.
Small batch & hand-crafted, Our Gin beautifully mixes the maritime & industrial heritage
of Northern Ireland with the modern sophistication of Belfast.
Tasting Note
NOSE
The bouquet is strong and intense with a rich pine-fresh aroma of juniper, followed by crisp notes of coriander and citrus.
PALATE
Definitely Juniper lead, with zesty orange and lemon, somewhat oily with hints of background flax seed, almost warming in the mouth.
FINISH
Smooth and light with a softness across the palate from the flax. Well balanced, the juniper gives way to gentle warm spicy notes with a delicate sweet orange finish.